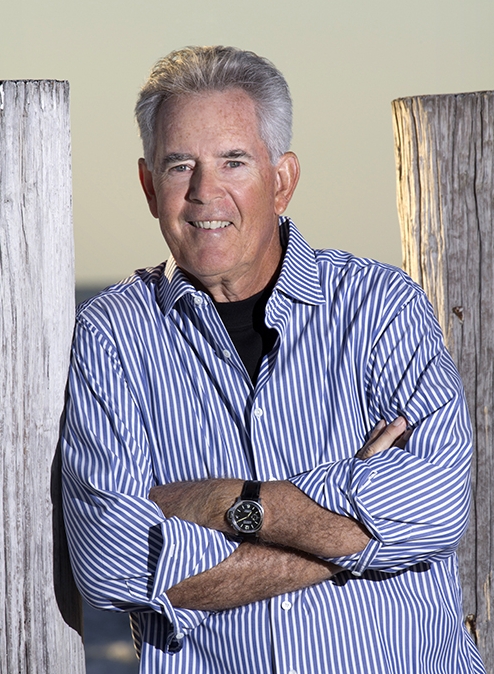 [dropcap]D[/dropcap]aniel O'Neil is a graduate of the University of Wisconsin-Madison, a former sports broadcaster and current insurance consultant. His personal collection of fiction is extensive and serves as his inspiration to introduce readers to BODIES ON THE POTOMAC, his debut novel. O'Neil, the father of two sons, has lived in a variety of locations, including Wisconsin, California, Indiana, Kentucky, and South Carolina. He currently resides in Florida where he is at work on his next book.
A Conversation with Dan O'Neil
1. What was your biggest inspiration while writing Bodies on the Potomac?
I'd written a couple manuscripts in the late 90's and in the process of trying to secure representation I met an established NY agent who referred me to another agent who was beginning to build a list. For a variety of reasons that connection did not result in publication. The agent soon left the publishing field, but she and I stayed in touch over the years. In 2012 she asked if I kept my hand in writing, and I told her that I'd start a new manuscript every so often but never followed through, other of life's events and opportunities taking priority. One day she suggested that I write another book. "You think?" I said. "Give it a shot," she replied. "When you're done, send it to me, I'll tell you if you have something." And so I did. Tara the muse. Bodies on the Potomac is dedicated to her, not only for inspiring me to write, but in helping me to, believe it or not, reconnect with the agent who referred me to her in the first place. After reading the first draft, he agreed to represent me if I was willing to bust my butt to reconstruct the manuscript in order to make it better. And here we are, ready to launch. One day maybe I'll turn the whole story into a book.
2. What is usually on your nightstand?
Right now, my iPad with Natchez Burning by Greg Iles teed up. Stored next to the iPad are Nelson DeMille and Michael Connelly, both novels already devoured. No telephone. No remote control. A reading lamp.
3. Which character in Bodies on the Potomac is most like you?
No single character. Although there's a little bit of me in a number of them. The sharp tongue of Alice, the dreamer in Randall, the integrity of Clark are a few characteristics that reflect traits of my own at one level or another. And of course, Rasey. A family surname on my mother's side transformed to identify a wickedly smart and vulnerable woman who surprises even herself with her success.
4. Which authors have most influenced your writing?
That's very difficult to categorize. But looking back, reading Winds of War, and War and Remembrance by Herman Wouk hooked me on fiction. I've almost always had a book going, and nearly always it's fiction. Then came Frederick Forsythe's The Day of the Jackal, and I was spellbound, particularly when the Jackal strapped the lower half of his leg behind his thigh and entered the heavily guarded killing zone as a one legged veteran who'd lost his limb in the war. Soon Tom Clancy was on the scene and the release of a new Clancy thriller was always an event for me. Somewhere along the way I discovered DeMille, I think it was Gold Coast, and I wondered how he did it, weaved the story together, created the dialogue, transformed characters from words on a page to three-dimensional people who I either rooted for or genuinely disliked. I always knew a novel was in my top 10 when I slowed my reading during the last hundred pages because I didn't want to finish. Of course your question would not be completely answered if I left out the late Robert B. Parker. He and Dan Jenkins had a way of nailing life right between the eyes, an immense talent if you ask me. And then the first time I picked up one of Parker's Sunny Randall books, it took my breath away: he'd written a detective story in first person when the detective was a woman. How the hell? But he pulled it off. And Daniel Silva is appointment reading too, a big hat tip to Mr. Silva for the entertainment he's given me and, yes, even inspiration. Of course that's like saying the batboy is inspired by Babe Ruth, but, hey, everyone starts somewhere.
5. What is your favorite scene in Bodies on the Potomac?
At the Lincoln Memorial with Loraine and Ridge. Do I need to tell you why? A close second is the introduction of Alice with her swagger, her fearless if larcenous heart, and her acid tongue. A very close third; lunch with Rasey and Azarov.
6. What do you think is your main character's best trait?
Integrity. Honor. Two sides to the same coin.
7. Are any characters in your book based on a real person?
No. All seemed to arrive on the page as if by magic, generally a composite of experiences/observations.
8. What is something your readers would be surprised to know about you?
I'm never sure I've written a good scene. I'm hopeful, but unsure.
9. Where is your favorite place to write?
No log cabin stories here. I write at my iMac in my office, at home, every day. I think I read somewhere were Michael Connelly told an interviewer that anyone who considers themselves a writer must write something every day. It could be one line or one chapter, but something goes down on 'paper' every day. And that's what I do.
10. What did you want to be when you grew up?
The radio voice of a major league baseball team.
11. What is your favorite book of all time?
WOW. Is that a gun I see pointed at my head? Ok, Ok. Winds of War.
12. When is your birthday?
September 3.
13. What is your dream vacation?
Anywhere warm and interesting with the woman I love. Second choice, anywhere warm and interesting with the woman I love.
14. Describe your writing style in three words.
A free-for-all. I'd be interested to have that question answered by readers.
15. When naming your characters, do you give any thought to the actual meaning?
No. No hidden agendas in names or plot or characterizations. I feel names roll off my tongue after they pop into my head. If I like the way it feels, I go with it. Otherwise I try again. Taylor Clark sounds like a rock solid guy. Michael Azarov sounds like a guy who wants for himself all the money the world ever produced. And Carmen Wild? What red blooded male would not want to fall in love with someone named Carmen Wild? Well, red blooded males not currently occupied with women of another name, that is.
16. What is your main character's favorite song?
I Did It My Way. The Sinatra version of course.
17. Any recent works that you admire?
Many. I admire Clancy for a great and unexpected comeback; and Greg Iles writing 2,500 pages or something after that car wreck? How? Natchez Burning is an astounding accomplishment. Maybe one day I'll get to meet one or two of the writers I've read for so long.
18. If you could co-write a book with any author, who would it be?
WOW. Is that a gun I see pointed at my head? Ok, Ok. John Sandford. (Well, really it's John Camp but is that part really important?)
19. How have your personal experiences affected your writing?
Aware of it or not, personal experiences are reflected in writing. I don't see how it's possible to write without integrating one's life experiences into the fabric of the characters and the story.
20. What is your writing process?
I think it was Dan Jenkins who said that writing from an outline would be too much like carpentry. I agree. Whole heartedly. I know there are accomplished authors who do it that way, but it doesn't work for me. I sit down with an idea of where I want to start and where I want to finish and start pounding keys. I make notes about ideas for the pages ahead, sometimes literally waking up in the middle of the night to jot something down. But mostly when I sit down in the morning I have no idea what's going to happen. It's fun. Who will I meet today? Oh, Alice, a Congresswoman from San Antonio, do you realize how the seas part when you stride from one building to the next on Capitol Hill? Glad I've met you, you'll add considerably to this story I'm trying to tell. I think this approach makes the rewrites more difficult, but it feels as if my imagination is more engaged if I create as I go.